Regular switchgear preventative maintenance programs can help reduce accidents, potentially save lives and help minimize loss of revenue, from an unforeseen shutdown of equipment.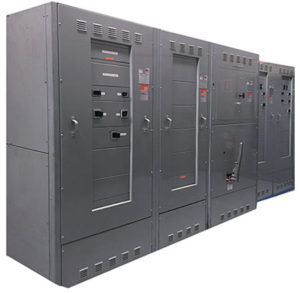 Proper attention to your electrical system's reliability suggests a regular plan of maintaining the "heart" of your facility.
The frequency depends upon the environment, condition, and age, of the equipment.  Moisture and heat, combined with dirt, dust and other contaminates, will deteriorate insulation, conductive material and protective devices, at an accelerated rate. Depending on load and usage, regular switchgear maintenance needs to be considered.
Regular switchgear maintenance should always include the following:
• Test the GFI trip set point
Switchgear rated 1200 Amps and above, are required to have a GFI on the main.  The GFI is designed to de-energize the system if there is more than 4 – 6 milliamps of current leaking to ground. Knowing that your GFI is actively working, will save you from personal injury, or even the the results of fires.
• Exercise and Lubricate Switches
The majority of all switchgear mains use bolted pressure switches.  It is vital to periodically inspect the mechanical operation of the switch, due to the nature and history of them failing to open and close the circuit.  Not only are the "mains" important to inspect, but also all of your branch circuits.  Sprint Electrical will exercise and lubricate all switches to ensure they are operating correctly.
• Vacuum and clean interior of gear
Depending on the environment your switchgear is subjected to, it is important to regularly vacuum the combustible dust, and fibers, inside your switchgear.
• Tork all branch circuits to manufacturers specifications
All of the copper wiring within your facility will expand and contract due to your load demand. Over time, the termination points of the wires will become loose and highly-resistive.  A highly-resistive termination spot means high heat levels, which in turn, will become dangerous and damaging to your electrical system.
• Visually inspect for any immediate dangers
We supply highly-trained technicians to perform visual inspections, to ensure all components are in proper working order and there are no apparent code violations, as well as hazardous hot spots.
The Sprint Electrical Team are seasoned experts in the maintenance of switchgear, and will assist in preparing, and delivering a maintenance plan, for each lineup of your switchgear.
Call Sprint Electrical, and ask for a project manager to discuss ongoing maintenance contracts.
Get peace of mind in maintaining your electrical systems: