Generators and UPS backup systems can prevent unforeseen circumstances from shutting down a facility.
What would your power loss cost you in production down time?  How would a power loss affect your office communications?
You can be prepared for this when you have an Uninterrupted Power Supply (UPS Battery Back-up) coupled with a back-up Generator System, to keep production up and running, when the main power is interrupted.
Here's how it works –
• The UPS back-up system is connected to a stand-by generator and senses an immediate loss of power. The UPS back-up will then provide the critical seconds needed to avoid a shutdown.
•  Within split seconds, (after the UPS back-up provides brief power) the stand-by generator will immediately start up, and go into longer term power production.
• All this occurs within seconds after the UPS back up senses, and provides it's short-term back-up in the event of a power loss.
We at Sprint Electrical, suggest back-up power solutions for many clients that can't be shut down when a power loss or interruption can occur.  We have the experience, know-how and choice of products, to fit your specific facility.
In many facilities the loss of power is too great a risk.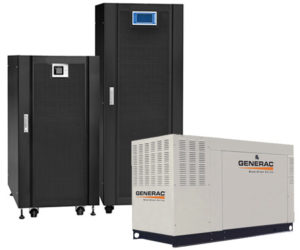 We've got answers, the equipment and know-how, to keep you powered up, to avoid costly shutdowns.
Generators

8.5KW – 2500KW
Natural Gas, Propane, Diesel
Rental Units Available

Permanent Tap Boxes for Temporary Rental Generators
UPS (uninterruptable power supply)
We provide a variety of choices & capacities of UPS Systems to fit your need
Call Sprint to learn more. 847-981-0611